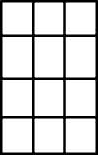 All Possible Chairs
A Profile of Monobloc Chair
x
No chairs found.
About
All Possible Chairs is a profile of a Monobloc chair. The Monobloc chair is the most common plastic chair that is manufactured from one piece of plastic in a single process. Every 70 seconds on earth, a single chair is produced and sold for around three dollars. As this chair is so quick and cheap to make, thousands of different models have been produced.

All Possible Chairs is an attempt to represent Monobloc chair as a comprehensible object that embraces the variety of iterations and its speedy proliferation. If you select a price from the list, All Possible Chairs will show you a single chair that consists of all results matching the criteria. It uses a responsive frameworkfig.1 that changes by equally dividing an image into the same number of setions.

The list of chairs are updated occasionally. If you find any Monobloc chairs online, please send the link here.






Fig.1 All Possible Chairs, Shematic diagrams


Colophon


(c) 2015 Minkyoung Kim all rights researved.
ⓒ 2015 Minkyoung Kim All rights researved.